[acx_slideshow name="Killeen Slideshow"]
These 4 trailers are outfitted with a full width folding Hydraulic entry ramp, half width ramp from lower floor to upper floor, LED interior lighting, LED area lighting, and a solar panel to boot!
This August, Clubhouse Trailers delivered four trailers to Killeen Independent School District, in Killeen Texas. Read the stories about the unveiling here!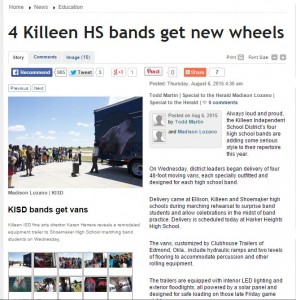 4 Killeen HS Bands New Wheels- Killeen Daily Herald
Heights bands shows off flashy new moving van- Harker Heights Herald
[columns] [span3]
[/span3][span3]
[/span3][/columns]