Mesquite Independent School District was fortunate to place an order for FIVE trailers! Each trailer supporting one of their high schools. You can read the article here. Trailer #015 is now supporting the Poteet High School Band. This trailer was uniquely outfitted with our rack & roll high 2nd floor layout,. Check out some more pictures below.
Poteet High School chose the 'Rack & Roll' layout, which consists of a tall 1st floor, and shorter 2nd floor. This layout is designed to accommodate front ensemble equipment on the 2nd floor, and a taller 1st floor for Wheeled Uniform racks, instrument storage cubes, or other free items. Loading is accomplished with a full width hydraulic rear ramp, and half width 1st to 2nd floor ramp.
[columns] [span6]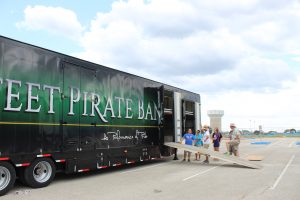 Side entry for the Poteet Trailer is provided by a pair of fiberglass loading ramps. These ramps store in the bellyboxes during transit.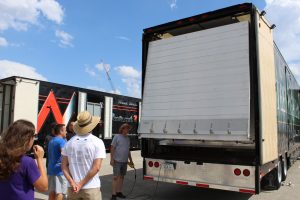 The Hydraulic Ramp is an easy, one-button deploy. It is 14 feet, and makes loading a breeze!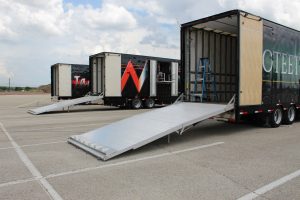 [/span6][span6]
[/span6][/columns]
Notable Features on this Trailer:
Layout: Rack & Roll
Curbside Entry: Fiberglass Ramps
Rear Ramp: Full-Width Hydraulic
Lighting System: Full LED Interior Lighting w/12 Exterior Camp Flood Lights. 100Watt Solar Panel with Deep Cycle Heavy Duty Battery
1st to 2nd Floor: Half-Width Hydraulic Ramps
External Paint: Body Work/Repair with Sandblast, Primer, and High Quality Black Automotive Paint
External Graphics: Designed by Poteet Alumni, printing and install by Clubhouse Vendor
Front 5th Wheel Room: Instrument Shelving below 2nd floor
Director's Platform: No
Rear Bumper: Signature Diamond Treadplate Bumper