Semi Equipment Trailers
These trailers are custom celebrations of organization, flexibility, creativity and civic/organization pride. Our trailers are used by high school and college marching bands around the country, as well as the World Class DCI organization, The Cavalier's Drum & Bugle Corps.
We provide full turnkey trailers, as well as empty shells for immediate use.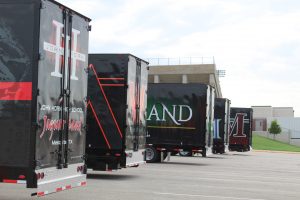 Spirit Sales/ Tailgating Trailers
These smaller trailers are tailored to your unique needs in a large potential market
The Spirit Sales trailer would be used by a variety of groups: Marching Band Ways and
Means Committees, various sports groups, as well as other small start-ups that would
benefit from a cost-effective, lightweight and nimble storage and display solution.
Tailgating trailers have many possible configurations to meet your entertainment needs, all while keeping a small footprint.
Custom Solutions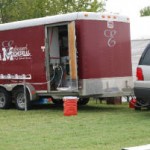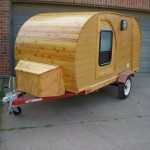 Percussion Rolling Stock
Before developing Marching Band Trailers we were building marching equipment to help our local high school marching band. After spending several years repairing equipment used by our local high school band it became very obvious that marching band equipment should be built the same way we built machines for the manufacturing industry – easy to use but tough! So started Hadley Marching Systems to provide percussion rolling stock.